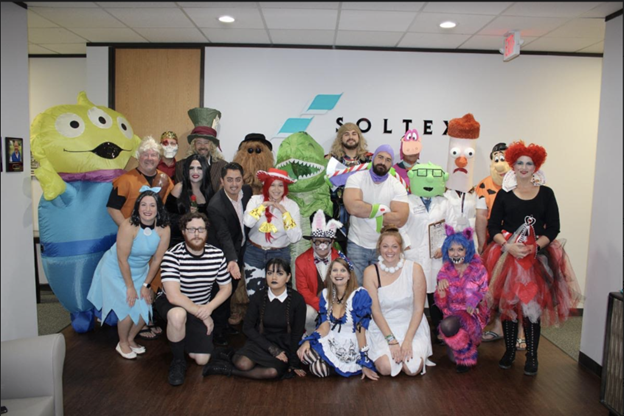 Soltex Teams Embrace Celebration
Friday, November 4th, 2022
The workplace culture of Soltex is anything but dull and the annual company-wide Halloween festivities are a testament to just that. The participation and overall enthusiasm for celebration at Soltex was particularly evident this year. With each department dressing up in a particular theme in mind, everyone was in on the fun; from operations to sales and everything in between, the creativity among Soltex staff took on a playful and humorous tone.
Partially motivated by the yearly costume competition, departments first worked together to decide on a group theme and then executed their individual costumes within that theme. And while Soltex teams collaborate daily on work projects constantly throughout the year, this particular opportunity for a team challenge brought a certain, highly anticipated element of fun and camaraderie.
On Monday, the office was bustling with employees who arrived to work dressed as characters from The Muppets, Toy Story, The Adams Family, Alice in Wonderland, and The Flintstones. All employees then voted on their favorite department costume, as well as best individual female and best male costume. Once the votes were cast, the group came together for a spook-tacular luncheon. This year the winners of the group costume contest were Alice in Wonderland from Accounting department. Best individual costumes were awarded to Queen of Hearts, Christine Thomas and Cousin It, Blaine Wiles.
It's the fun moments like this among the normal day to day at Soltex that contribute to the cultural workplace environment our employees value; one that celebrates creativity, individuality, teamwork and fun! We are already hearing whispers of costume ideas for next year's celebrations and can't wait for the fun to continue onward.
---