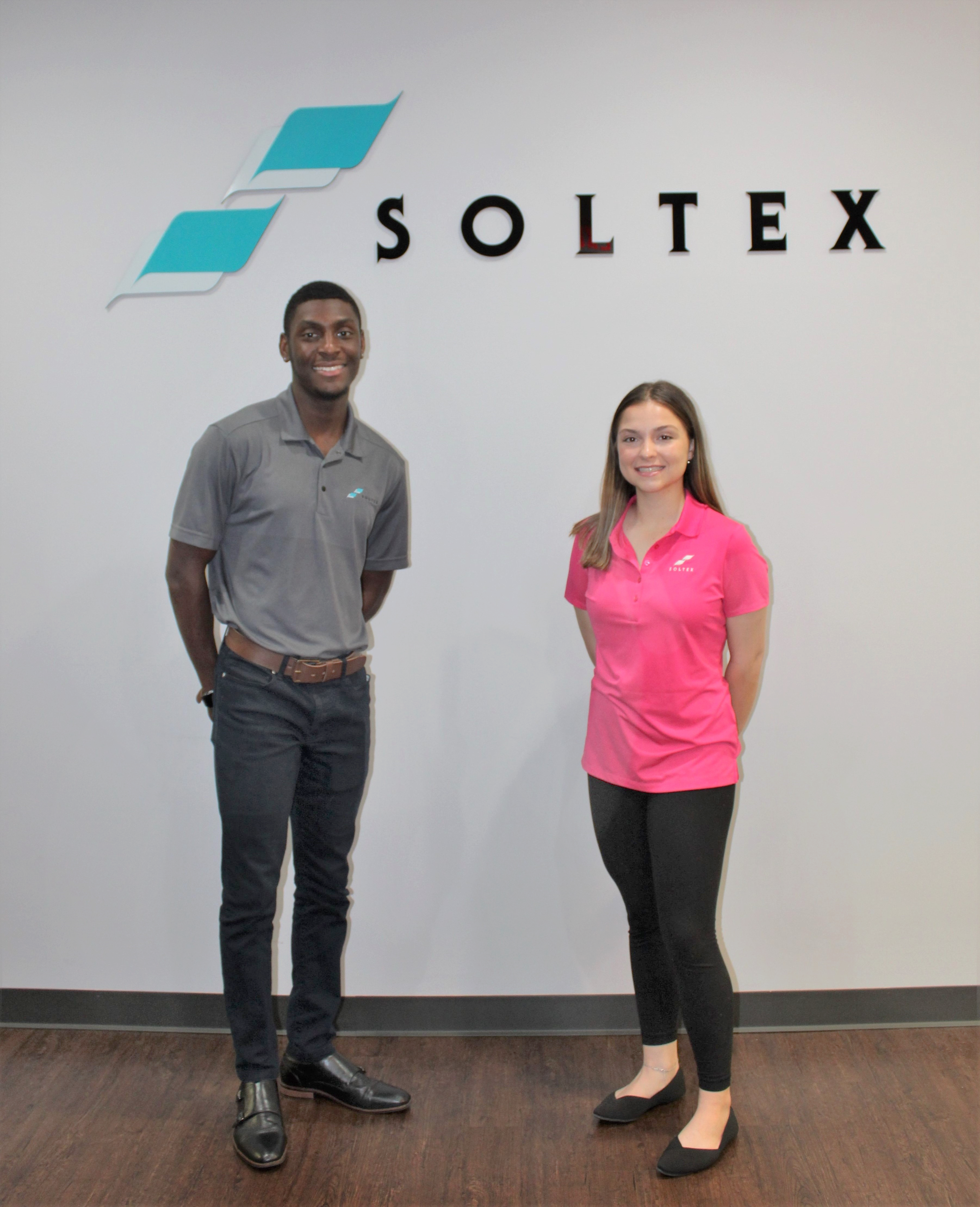 Soltex Summer Interns Bring New Energy and Insights
Thursday, September 15th, 2022
This summer Soltex has welcomed two interns to our team, Christian Gilmore and Mia Traugott. Bringing dynamic and helpful energies to the team, both have seized the many opportunities they have been presented with at Soltex to further their knowledge and gain experience individually. Gilmore is more specifically a supply chain intern and Traugott has focused her time on marketing and operations.
A recent college graduate, Gilmore interviewed with Soltex for his position and describes that he took an immediate liking to Soltex and his interest in the chemical industry was piqued. In his role as a supply chain summer intern, he describes that he performs a variety of tasks from "accurately composing and executing purchase orders, to communicating with domestic and international suppliers, and coding invoices for accounting." While he details that the supply chain industry can be unpredictable, he also explains that the most interesting project he's worked on so far has involved analyzing sales history and sales forecasts for products such as polybutene, fumed silica, acetylene black, and others to create an effective future supply plan.
As a summer intern with an interest in marketing and office management, Traugott has also stepped up during her time on the Soltex team. Working with the marketing department, she has been able to dive into marketing analytics, perform many marketing-based tasks and learn the ins and outs of industry best practices. For her, the most interesting project has been developing a robust analytical report for all social media channels and the Soltex website.
Both Gilmore and Traugott described the environment at Soltex as supportive and communicative and noted the company's success and reputation in the chemical market. Success in their roles comes in the form of both achievement on projects, and in the immense growth they have each experienced professionally. The ability to gain knowledge in a hands-on environment has contributed to both of their growth over the course of the internship. Gilmore explains that "shadowing your superiors and learning their processes and skills that has allowed them to be great in their current role" is also incredibly valuable.
When they're not gaining experience and skills to carry into their individual careers, Traugott and Gilmore each stay busy pursuing individual hobbies and interests. Gilmore enjoys track and field, and playing video games and guitar, while Taugott likes to play softball, read, swim, and hang out with friends. They both also enjoy spending time by the water; Gilmore is more a lake guy, while Traugott is happy "anywhere with the beach." Interns with such drive and ambition have brought new energy to our workspace and we're glad to have contributed to and experienced their growth. We look forward to following their future career paths and want to congratulate both on officially joining the Soltex family.
---